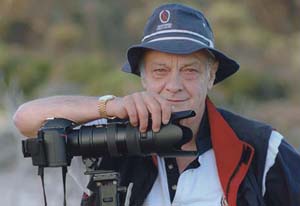 My first interest in photography was created when for my seventh birthday my parents gave me a Genos camera … (f11, 1/125s with bulb and a real leather case!).
We were then living in India. Film must have been cheap then as I spent virtually all my spare time photographing the sights and people in Bombay and New Delhi. I still have the camera but regrettably the negatives are unusable.
I came to live in Australia in 1956 where I eventually studied and graduated in law. I have worked as a lawyer since the mid sixties.
I met with Ansel Adams in 1978 when I was visiting Carmel in California. At his invitation (actually I think it was at his insistence!) I attended his workshop in Yosemite Valley. The experience was eye opening. I had the opportunity then and on subsequent visits with Ansel to view firsthand the work of some of the greatest photographers such as Ansel Adams, Paul Caponigro, Don Worth, Roy deCarava, William Garnett and John Sexton (who was then working as Ansel's Assistant). I had never seen such magnificently produced prints. Their critiques of my own work were unbelievably valuable. They gave freely of their time and generously shared their skills and experience.
It was my first Ansel Adams workshop that I met Charlie Cramer who was also a first time attendee. The following day was a free day and the dozen or so students agreed to meet at 4.00am and photograph the sunrise over Half Dome…Charlie was the only other person to turn up! We became great friends. Charlie has gone on to be one of the finest photographers in the USA and is now regarded highly as an Adobe Photoshop lecturer. I have enjoyed many a photo expedition with him both in the USA and in Australia.
The change to digital
About five years ago I came to the realization that digital photography was not a passing phase but here to stay. I found that my wet darkroom experience paid dividends in making the transition. For a while I made images in both forms but now photograph exclusively in digital.
About the cameras
Until recently the images have been made with a series of Nikon digital cameras including the D700 which have produced images of fabulous resolution. In May 2012 I acquired a Hasselblad D4-40. This incredible 40 megapixel camera and its lenses produce a quality of image , resolution and colour brilliance which is quite amazing.
About the prints
Digital printing allows me to use all the wet darkroom corrections I would have made in the past and then some. It allows for greater creativity without any alteration to the original concept of the image. Ansel is credited for once saying (he was also a classical pianist) that "the negative is the score and the print the performance". With digital the vision remains-the instruments are now better.
The prints are made by myself on Hahnemule fine art 100% rag paper (308gm's m2) and are archival for at least one hundred years.
The cost of each print varies from AU$ 285 for a print approximately 210mm x 297mm(11.7inx8.3in) to $ AU 650 for a print approximately 841mm x 600 mm ( 24in x 33 in). and this cost includes matting and mounting by Wilsons Fine Art Framers. It also includes the cost of packaging and postage to anywhere in the world.